Tube Saddle 21" Front / 18" Rear-JEC products-Dirt Bike
SKU:

#21"f-18"r

UPC:

Weight:

1.00 LBS

Shipping:

Free Shipping
Description
TUBE SADDLE

®
Break the Pressure Barrier!
With TUBE SADDLE ® you can finally be free of the headaches of Pinch Flats and finally "break the pressure barrier" by being able to run the tire pressures that give you optimal traction for the type of riding you do! TUBE SADDLE ® optimizes traction, improves your suspension handling, and reduces arm pump. IF YOU RACE WITH INNER TUBES, YOU WILL HAVE A DEFENITE ADVANTAGE OVER THE PACK BY MAKING TUBE SADDLE® A PART OF YOUR RACING EQUIPMENT.
2015 Product of the year, Dirt Rider Magazine.
Top 20 must have Products 2015, Motocross Action Magazine.
WHAT IS IT?
TUBE SADDLE ® is a revolutionary patent pending insert for motorcycle tires designed to prevent pinch flats. It is installed with a conventional inner tube and allows you to run low tire pressures (between 8-12psi) without the worry of getting a pinch flat. It requires no modification of the rim and installs essentially the same as installing an inner tube. It can be used for all Off-Road motorcycle competition such as motocross, enduros, cross-country, GNCC, endurocross, desert racing, dual sport, adventure riding, trail riding, and the like.
With TUBE SADDLE ® you can adjust your pressure to achieve an even better feel than running a "solid foam insert" without the installation and lubrication issues or weight, for a fraction of the price! Because TUBE SADDLE ® utilizes a conventional inner tube, you can adjust the feel of your tires simply by adjusting the tube pressure. With TUBE SADDLE ® you can achieve the same feel as running a "tube-less" system without the worry of nicking or hooking the inner liner (which ruins your investment), again at a fraction of the price. TUBE SADDLE ® can be installed with used tires even if the bead has been kinked or stretched. TUBE SADDLE ® is serviceable anywhere, not just in your garage, so if you happen to get a puncture flat on the trail and you carry a spare inner tube, you will not be stranded. TUBE SADDLE ® is durable, and when properly installed and removed can last through multiple tire changes.
WHY USE IT?
Installing TUBE SADDLE ® with a conventional inner tube provides the following benefits:
Better traction by running lower tire pressure (8-12 psi) without the risk of pinch flats. You will feel as if your suspension has been revalved.
A lighter wheel assembly when running TUBE SADDLE ® with a standard inner tube compared to using heavy duty inner tubes.
Longer tire life resulting from running lower tire pressure.
Better traction even when your tires are worn.
Eliminate installation pinch flats incurred by tire irons.
Eliminate duct taping the spokes of your rim or using the rim rubber band.
TUBE SADDLE ® seals your wheel assembly from water and debris.
SO, JUST HOW DOES IT WORK?
Click on the "How it works" link below to find out.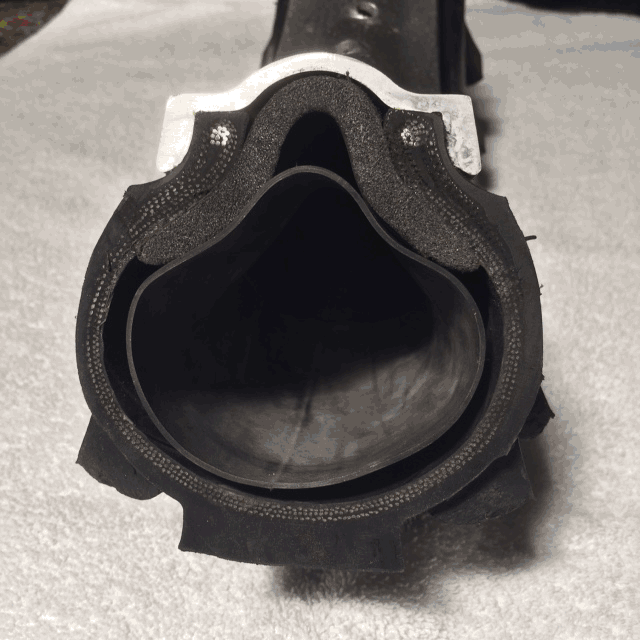 View All
Close